Ei stund før festivalen var Skånevik Bluesfestival medarrangør av ein svært vellykka konsert med legendariske Deep Purple i Haugesund. Den 9. Skånevik Bluesfestival blei ei storarta oppleving. Publikum strøymde til frå alle kantar, artistane var glimrande, stemninga var
høg og veret var kjempeflott. Kva meir kan ein ønskja seg?
BigBang ( N )
Gi oss en kortversjon av BIGBANG historien?
Startet høsten 1992 av Erik Tresselt, Christer Engen og Øystein Greni. Olaf Olsen ble med i 1999. Utgivelser: Waxed '95, Electric Psalmbook '98, Clouds Rolling By '00, Frontside RocknRoll '02, Radio Radio TV Sleep '04, Poetic Terrosim '05
Hva er den største forskjellen på BIGBANG annon 1999 og 2005?
Det er ikke så stor forskjell akkurat nå. Antageligvis litt tryggere stemning i bandet og litt mer erfaring både i studio og på plate. Og vi har fått større åpenhet til musikk generelt.
Erik Tresselt er for mange et blankt ark, hvem er denne mannen?
Erik er en fjellstø bassist, fantastisk stemme, det er han som synger Electric Psalmbook og har en veldig karakteristisk sound når han korer. Han har alltid vært involvert som arrangør og låtskriver. Veldig «bandfyr» som er mest opptatt av låter og helhet, mer enn sitt eget instrument. Spiller også bra gitar og harmonica.
Og gi oss en kort beskrivelse av de to andre bandmedlemmene?
Olaf er en sjenert superstjerne, en av klodens herligste trommeslagere som også har utviklet seg veldig som harmonisanger, gitarist og arrangør. Øystein er låtskriver, gitarist, vokalist og en naturlig kreativ leder i bandet gjennom mange år.
Hva er styrken til den besetningen BIGBANG består av i dag?
Jeg vil ikke sette noen av besetningene opp mot hverandre. Alle medlemmene gjennom alle tider har hatt sine unike bidrag som alltid være med i bandets sjel. Christer, Martin, Kristian, Karim og Nikolai. For å ikke glemme Stig Morten og Christian Engfelt som har vært teknikkere og live-vikarer. En fordel med Erik er at han var med i en tøff startfase og kjenner hele utviklingen bandet har vært igjennom. Har er ikke redd for å si hva han mener, men er samtidig veldig imøtekommende og kreativ når det gjelder nye låter. Han er også tremenning av Øystein og er en slags storebrorfigur for ham. Olaf er en trommeslager som mestrer veldig mange stilarter og hans unike smak og tilnærming hever bigbang mange hakk musikalsk og åndelig.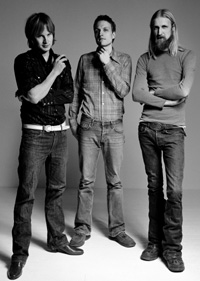 Bjørn Berge ( N )
Etter Bjørn Berges eventyrlig suksess i store deler av Europa de siste 3 årene, er nå det syvende soloalbumet, "We're gonna groove" klart til utgivelse. Denne gangen er mesteparten av låtmaterialet skrevet av Berge selv. Bjørn Berge har stått for låtene mens Tim Scott McConnell har skrevet tekstene, med unntak av tittellåten som er skrevet av King/Bethea. På denne skiva spiller Bjørn alle instrumenter selv, unntatt trommer som blir traktert av Tore Jamne (Vamp, etc). Som på alle Bjørn sine tidligere utgivelser, så inneholder også denne skiva en blanding av akustiske og elektriske låter, enten solo eller med komp.
Live så er Bjørn kun bevæpnet med sine gitarer, og i tillegg til sitt eget materiale plukker han også litt av det beste fra forskjellige musikkstiler som han smelter sammen til et unikt lydbilde med høy energi og intensitet. Han har en musikalsk utforskertrang, rastløshet og appetitt som aldri tillater han å stivne fast i én form. Han spiller som om han har 50 sett med armer og 20 sett med ben. Publikum blir etterlatt i desperasjon etter mer, men Bjørn må reise videre til neste sted for en ny konsert og nye utfordringer.
Fakta:
* En av Europas mest ettertraktede liveartister.
* 7 utgitte album. Siste utgivelse «WE'RE GONNA GROOVE»
* Opptrer kun alene, han ER sitt eget band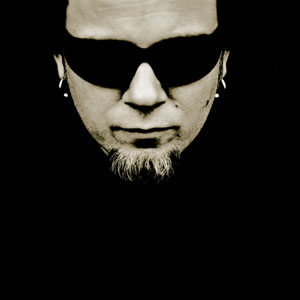 The Blue Junction ( DK )
The Blue Junction er udsprunget af den århusianske bluesscene i midten af 1990'erne. Bandet blev dannet på opfordring af bassist Morten Brauner, og består af erfarne musikere fra kendte danske professionelle bluesbands, som Shades of Blue, Frimer Band og TroubleCats.
Med den Texas-inspirerede guitarist og sanger Ole Frimer og den Chicago-inspirerede guitarist Uffe Steen i front, og med en af landets bedste og mest sammenspillede rytmegrupper, Morten Brauner (bas) og Claus Daugaard (trommer), spilles der en nutidig og original blues-stil som bedst beskrives «Texas meets Chicago meets Aarhus».
Orkesteret skriver selv sin musik, men blander ofte egne numre med fortolkninger af det klassiske blues-repertoire. I 1998 udgav The Blue Junction sit første album «22:17 – Live in Aarhus» på Intermusic (se menuen «CD – audio»); en plade som fornemt illustrerer orkesterets dynamiske live-optrædender.
Prisbelønnet i Amerika
Debut-pladen blev rost til skyerne af både dansk og international presse, ikke mindst af amerikanske musikmagasiner og pladeselskaber, som gav den top-karakterer og regner orkesteret til verdens-eliten (se menuen «Presse»). Den internationale opmærksomhed kulminerede i efteråret 2001 da orkesteret modtog den fornemme amerikanske Real Blues-pris for «Best Live European Blues Recording 2000». Orkesteret har efterhånden besøgt de fleste danske spillesteder og en lang række skandinaviske festivaler
Siste nytt
Endnu en amerikansk musikpris til århusianske The Blue Junction
For anden gang på bare fire år har det århusianske band, The Blue Junction, modtaget den prestigefyldte Real Blues Award. Denne gang som
"Årets udenlandske bluesnavn i Amerika".
Prisen uddeles årligt af det anerkendte amerikanske musikmagasin Real Blues Magazine, og bliver offentliggjort i magasinets award hæfte 2004. Real Blues prisen kommer belejligt for The Blue Junction. Den 19. april udkommer deres nye CD "The Journey" på InTheHouse Records.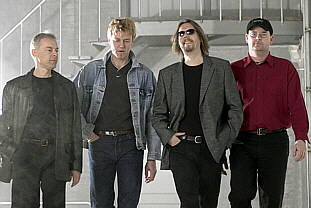 EUROPE (S)
Rockegruppa Europe med Joey Tempest som frontfigur kjem til Skånevik Bluesfestival i år. Ingen rockegruppe frå Norden er meir kjend enn Europe. Gruppa fikk sitt store gjennombrot i 1986 med «The Final Countdown» som toppa listene i 25 land og vart seld i heile 8 millionar eksemplarar. Gruppa ga i fjor ut albumet Start from the dark og samlealbumet Rock the Night med stor suksess.
Les biografien til bandet
Joey Tempest. John Norum. Mic Michaeli. Ian Haugland. John Leven. These names can only mean one thing: Europe are back with their classic line-up. To call this union long-awaited is an understatement.
Recent festival gigs have proved beyond all doubt that the audience certainly hasn't forgotten. They also proved that Europe have never been better. All of this will be confirmed by the new album Start From The Dark and the forthcoming concert tour.
Everyone privileged enough to have been able to catch the band live during the summer all seem to agree. The band is heavy , they are having fun. They are focused and in great shape. They play with authority. And, most important of all: they are hungry for more ,and eager to prove that there are several more chapters in the success story Europe.
Looking back, the strengths of the bands classic line-up seem so obvious. The combination of Joey Tempest melodies and John Norum riffs. The bands exquisite musicianship and friendship. The way their playing fits together. All of this, and a fresh and modern edge, can be found on Europe's first new release in many years. Drummer Ian Haugland described the reunion as simply returning from a lunch break. That says a lot about how tight these guys are.
Joey and John met when they were around 15-16 years old. They had two things in common. They liked hard rock and they wanted to tour the world. Together, they went to see shows at Stockholm's Ice stadium, out band like Thin Lizzy, Deep Purple, Rainbow and Whitesnake. They formed the band Force. When they got fed up with playing covers of their favourite bands, and started to write their own songs. Their confidence grew when they started playing around Stockholm. Rumour started to spread of the band from Upplands Vasby who spent endless hours in the rehearsal space and were an incredible live act.
They soon had a local following playing in schools and small festivals around where they lived for no money at all, carrying their own equipment and having friends drive them around form gig to gig. Those days were fun recalls joey,- it really cemented our belief in ourselves but it was kind of tuff finding places to rehears and there was a lot of people in the establishment that thought we were just a bunch of longhaired criminals.
They were told by record companies that they should cut their hair and start to sing in Swedish if they wanted a record deal. but they went their own way and had the strong belief that one day all the hard work would pay of.
Their national breakthrough came through winning a band contest, changing their name to Europe in the process. A friend had, without telling the band, sent a demo. Out of 4000 bands around 80 were chosen to perform live around the country and ,Europe won.. the prize was to record an album.
but just like ABBA would have become big with or without their Eurovision Song Contest victory, Europe would have made it anyway.
They simply had what it takes. In Sweden they joined the big league instantly. Their first release soon went gold and from then on they became the touring band they always wanted to be. At the same time they were enjoying their first success in Japan.
Their second album Wings Of Tomorrow confirmed and strengthened their position internationally. Before long, the band signed a worldwide deal with Epic in the U.S. and recorded their third album The Final Countdown, which shifted over 8 million copies. The title track went on to become on of the great anthems of our time and reached the top of the charts in 25 countries. The album's second single, Rock the night , proved that they were here to stay .The final countdown album stayed on the American charts over 70 weeks and had 4 top 40 singles with the ballad Carrie topping the charts as the third single
It was around that time that John Norum left the band, Kee Marcello became a natural replacement. The following album, Out Of This World was a strong album, containing classics such as Superstitious and Let The Good Times Rock. Their fifth (and, until now, last) album Prisoners In Paradise recorded in Los Angeles was followed by another extensive world tour and the band was still on top.
but in a way that album was a victim of bad timing .. 1992 was the year of flannel shirts and lyrics of anxiety, «grunge». It was impossible to see who was in a grunge band and who was their audience. The musical climate was definitely wrong for Europe's life-affirming hard rock. Instead of trying to be what they're not, they showed true integrity and took a break. It was also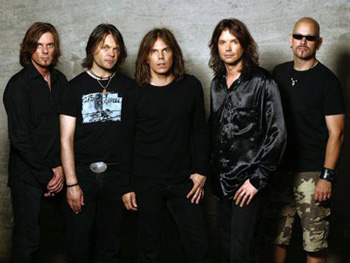 James Harman ( US )
James "Icepick" Harman har gjennom en 40 års karriere vært med på å forme blues-scenen i USA, og regnes som the Godfather innenfor California-bluesen. 60-åringen har 29 lp/cd-utgivelser bak seg. Han har et fantastisk talent som bandleder, låtskriver, sanger, munnspiller, produsent og stand-up komiker! Han er blitt nominert til flere Handy Awards, bluesens svar på Grammy. Hans siste Cd, "Lonesome Moon Trance" kom i 2003.
Harman startet med pianotimer som 4-åring og sang i kirkekor. Hans far var munnspiller og Harman pleide å spille på det etter pianotimene. Han oppdaget tidlig bluesen ved å høre på svarte radiostasjoner og gjennom en gatesanger som spilte slide med kniv.
I 2002 gjestet han Notodden bluesfestival hvor han leverte forrykende blues i verdensklasse og trollbandt sitt publikum med utadvendt energi og humoristisk sans.
James Harman, Junior Watson og Toni Lynn Washington bruker samme bandet som er frontet av supersaxofonisten Gordon Beadle.
James Harman blir karakterisert som en av de ekte bluespionerer. På 1970-tallet spilte han med sitt "Ice house band" backing for bl.a. John Lee Hooker, Freddie King, Muddy Waters, BB King, T-Bone Walker. Han spilte også med Rod Piazza og Kim Wilson.
På –80-tallet slo han gjennom som låtskriver, sanger og munnspiller. Han har de siste 40 år vært blant hovednavnene på bluesfestivaler verden over, og han leverer blues i verdensklasse og er i tillegg en fantastisk historieforteller.
James Harman lager musikk som er unik og personlig, men som likevel reflekterer hans lidenskap for bluesens røtter. Han mener at en må skape sin egen musikalske identitet for at suksessen skal vedvare, og at en må vite forskjellen mellom nyskapning og imitasjon.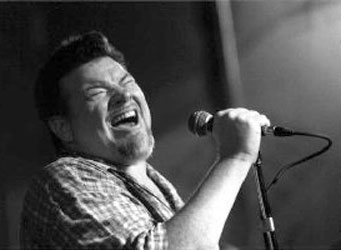 Randy Pavlock & Twenty Four Seven ( US )
Frå websida til artistane: – Randy Pavlock has been heard all throughout Texas. His last CD 'Hard Times ' which started as a demo, grew to the attention of all of the supporting fans, and has made air time on many radio stations such as Blues Deluxe Radio. From the hard work and dedication he pours out on stage, Randy Pavlock truly is a master of the blues! For all the fans, a new CD is in the making for 2005!
Randy Pavlock was raised in Navasota, a small east Texas town that is home to the late blues legend, Mance Lipscomb. Randy became inspired by a variety of teachers such as Mance Lipscomb, Stevie Ray Vaughan, Muddy Waters, Howlin' Wolf, Albert King, Arron «T-Bone» Walker, Robert Johnson, Freddie King, Eric Clapton, Buddy Holly, Merle Haggard, Willie Nelson, John Fogerty, Jimi Hendrix, John Lee Hooker, Buddy Guy, Albert Collins, Magic Slim, Otis Rush, Lightning Slim, John Hammond, Eddie Jones «Guitar Slim», Willie Dixon, Robert Cray, Clarence «Gatemouth» Brown , and Riley B King «B.B King» and the list goes on. Randy's own style and tremendous amount of compassion for what he does spreads from his whole being and captures his audience by engaging them in a truly rare and electrifying experience.
This young blues guitarist has performed in many Texas venues such as the famous Antone's, Steamboat, Joe's Generic Bar, 311 Club, Billy Blues, Third Floor Cantina, and more. Randy has played with members from the West Side Horns, and performed opening acts for Grady ( Chris Layton ), Crackerjack ( Tommy Shannon ) Omar and the Howlers, The Keller Brothers, Ruthie Foster, Del Castillo, The Platters, to name a few.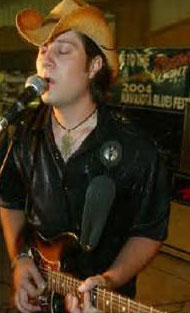 Jan Flaaten & His Blue Taste Buds (N)
Jan Flaaten deltok på oppstarten av Skånevik Bluesfestival. Han er kjent for å skapa stor bluesstemning og får publikum i fyr og flamme. Han har tidlegare vore musikalsk makker til Bjørn Berge.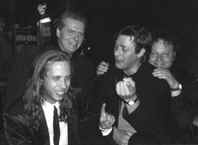 Knut Reiersrud ( N )
Frå Dagbladet sin omtale av CD'en «Pretty Ugly» som Reiersrud fikk Spelemannsprisen for i 2004: Knut Reiersrud er først og sist en ekte bluesmann. Men han er også en nysgjerrig verdensmusiker som elsker å eksperimentere. «Pretty Ugly» er en bluesplate, men det hadde ikke vært en Reiersrud-plate om det ikke også var et snev av noe annet her – f.eks. soul, jazz (kanskje inspirert av makker Knut Borge i «BluesAsylet» på NRK P2) og folkemusikk, som så mange ganger tidligere. Og – «Pretty Ugly» er hundre prosent Reiersrud. Her har han virkelig fått bruk for tørrtreninga på Tandbergs spolebåndopptaker som ung gutt, for det er bare én utøver på dette albumet. Han heter Knut Reiersrud, og han spiller gitarer, piano, orgel, fender rhodes, munnspill, glockenspiel, bass, trommer og perkusjon – og han synger bedre enn noen gang. Er det virkelig gitarfantomet Reiersrud som triller kule pianotoner på «Worried Life Blues» ?
Låtene er signert veteraner som Willie Dixon (tilbakelente «Too Many Coocks» og en suggererende knallversjon av «You Can't Judge A Book By The Cover» ), Shuggie Otis og Sonny Boy Williamson og Reiersrud selv, i kompaniskap med Jeff Wasserman (balladene «Sailing For The Moon» og «Holy Joe's» er verdt prisen aleine).
Å gjøre alt selv er ambisiøst og kan nok minne om stormannsgalskap, men Knut Reiersrud lander fjellstøtt med begge bluesbeina trygt på bakken.
Frå Knut Reiersrud si webside
When he was ten, Knut Reiersrud recorded Miles Davis and Mikael Urbaniak from the radio on his sister's cassette player. Two years later, he and his brother bought themselves guitars after seeing Buddy Guy and Muddy Waters on TV. At eighteen, Knut became an overnight sensation when the same Buddy Guy and Otis Rush, having heard him for the first time, embraced him and immediately invited him home to Chicago.
Knut Reiersrud (1961) is known to most people as a guitarist. It's now twenty years since he had the honour of playing with his legendary heroes. Since then he has played at 5,000 concerts, made more than 100 records, of which he has considered only five to be worthy of releasing under his own name, and in between times learned to master ten different string instruments. The problems arise when you try to explain what kind of guitarist he is. A man who always travels around with eight guitars because they have been tuned differently according to where the music comes from is versatility personified.
Reiersrud's unique talent shines out through all this versatility. In some inexplicable way, he creates an aura around the notes that is pure Reiersrud, whether he is playing African, Indian, Norwegian or American folk music, whether he dwells sobbingly, dances with cat's paw virtuosity over the strings or is downright noisy. It sometimes sounds as though he is giving birth to the notes right there and then, possibly as a result of his never using a plectrum because he wants to be close to the strings. His playing seems to find the essence; it evidences fundamentality, understanding and a sense of origin. All this is due to his insatiable curiosity and enviable openness. On the other hand, he can also be surprisingly conventional, as when he maintains that modern blues consists of good and less good copies of the great masters.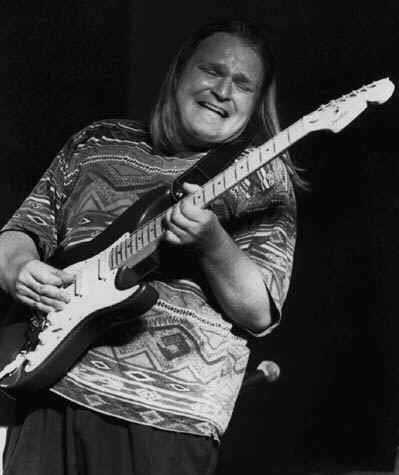 Stavangerensemblet ( N )
«Kan'kje finna fingen», «Ta ein kjangs», «Ska det ver, så ska det ver», «På bommen»
Stavangerfolk kan songane til Stavangerensemblet, og bandet er ein del av byen si kulturhistorie og identitet. Etter 16 års pause vakna rockarane igjen i 2001, og spelar i dag med ein energi som kan ta pusten frå nokon og einkvar. Alt er som det var, med andre ord.
For to år sidan gjesta dei Skånevik Bluesfestival med stor suksess. Dei laga eit «heidundrande» show ved House Of Blues og har lova å følgja opp dette med lika stor intensitet i år.
Frå ein konsertomtale i Stavanger Aftenblad:
– Hun er tydeligvis ikke alene om å ha store forventninger når byens første store rockeband skal spille så juleflesket fordamper. Stemningen var høy da gjengen entret scenen akkompagnert av Stavanger Energis trivelige julemusikk. Det var tydelig at de fire erfarne rockerne koste seg godt. Froddien skuffet ikke, men ga alt fra første stund. Det gikk på engelsk og norsk, og første sang var originalt nok «Blue Christmas» framført i kongelig stil. Med glitrende lys rundt mikrofonstativet og glinsende svetteperler på brystet vrikket Rønli seg rundt på scenen i kjent stil og serverte den ene klassikeren etter den andre. Han ropte på Åse, lette etter fingen, og prøvde å få folk til å forstå at det som er smått kan være ligaså godt, hele tiden med en god porsjon sjarm og humor. Stavangerensemblet hadde på forhånd lovet å servere mange godbiter, og det løftet holdt de og vel så det. –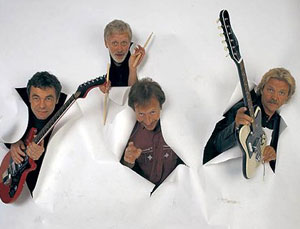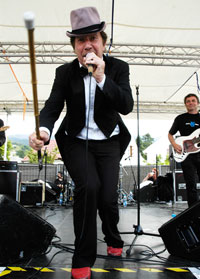 Sista Monica (US)
Ho syng soul som Aretha Franklin, ho har stemmekrafta til Etta James, gospelrøtene til Mavis Staples, «the funky groove» til James Brown og «the fun-loving spirit» til Katie Webster.
Sista Monica er ein av dei heitaste kvinneleg blues- soul og gospelsongarane i verda i dag. Ho har gitt ut 6 cd-ar og kjem ut med ny plate den 6. juni. Ho har delt scene med Buddy Guy, Ray Charles, Dr. John, John Lee Hooker og Etta James. Ho er eit fyrverkeri som går på scenen i bluesteltet i Skånevik laurdag kveld den 2. juli.
Frå websida til artisten: An award-winning singer/songwriter and record producer, Sista Monica is one of the hottest contemporary female blues, soul and gospel singers on the international music scene today. She writes, produces, performs and tours in support of her original music. To date, she has produced and recorded six (6) full length CDs on Mo Muscle Records Entertainment her independent record label located in Santa Cruz, California. A seventh (7th) electrifying Chicago-style blues, soul, funk and gospel CD is coming the spring of 2005 entitled " Can't Keep A Good Woman Down ".
She and her world-class band have shared stages with Buddy Guy in Spain, the late Ray Charles in Montreal, Dr. John in Belgium, Deborah Coleman in Venezuela, John Lee Hooker in San Francisco, Little Milton in The United Kingdom, Etta James in Monterey, Luther Allison in Holland and other artists in landmarks across the globe.
She is a new recipient of the "Artist Of The Year Award 2005" for all of Santa Cruz County recognizing her talents and community service. She has the program director spearheading the Tsunami Relief Musical Benefit Concert featuring musicians and artist in the Bay Area. This event raised thousands of dollars that went directly to Oxfam, Save The Children, and Humanities for Habitat.
In 2002 Sista Monica received the "Artist of the Year Award" at the prestigious 17 th Annual Monterey Bay Blues Festival. Also in November of 2002, Monica completed a seventeen (17) concert tour in The Netherlands with Eddie Clearwater and Sherman Roberts. Upon return, she discovered a lump under her right arm that was soon diagnosed as a rare form of cancer – Synovial Sarcoma. Determined to sing and live out her purpose, she underwent more than eighteen (18) months of aggressive chemotherapy, surgery, radiation and physical therapy to regain mobility in her microphone holding hand and arm.
In 2004 after treatments, She wrote two contemporary gospel songs "All Things Are Possible" and "Why Did You Leave My Child?" then compiled some Soul and Jazz standards remembering Ray Charles and Dinah Washington in a healing and inspirational CD "Love, Soul & Spirit vol. 1" ….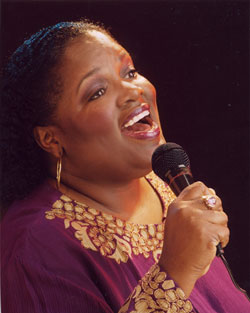 Roy Rogers & The Delta Rhythm Kings (US)
Roy Rogers vert rekna som ein strålande slide-gitarist. Han kjem saman med The Delta Rhythm Kings til Skånevik Bluesfestival fredagskvelden. Dette vert ein kveld du seint vil gløyma. Bonnie Raitt – ein av verdas beste slide – gitaristar seier det rett ut: …"His playing knocks me out as simple as that», says Raitt. «Roy is one of the most authentic interpreters of modern blues. He's a real master man who has spent so much time getting in touch with and really honing in on his craft. He's not an ivory-tower kind of player; he has a real understanding of a lot of different blues idioms"..
Roy Rogers har vunne mange prisar over heile verda. Døme på dette kan vera Australian Blues Society, w. c. Handysis, nominasjonar til Grammy og mange Bay Area Music Award. Han har gitt ut mange plater og vert også rekna som eit svært dyktig produsent.
I 1980 danna han gruppa The Delta Rhythm Kings og dei heldt framleis samam sjølv om Rogers innimellom har turnert verda rundt og spelt inn plater saman med mange andre kjende artistar. Ein kan til dømes nemna John Lee Hooker, Allen Toussaint, Miles Davis og Taj Mahal.
Roy Rogers har fleire gonger gjesta Kongsberg Jazzfestival og Notodden Bluesfestival. Kvar einaste gong har han imponert det kravstore publikummet og pressa. I 2001 besøkte han Skånevik og gjorde ein flott konsert.
Skånevik Bluesfestival ser verkeleg fram til å ha Roy Rogers & The Delta Rhythm Kings som gjestar. Vi veit dei vil skapa kjempestemning i det store bluesteltet.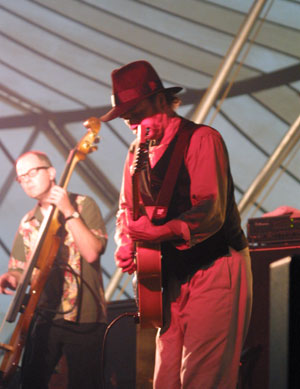 Tommy & The Runaway Boys (N)
Tommy Kristiansen frå Dale i Hordaland (der de lager så fine gensere og lusekofter), er ein av Noregs mest talentfulle unge bluesgitaristar.
Han har vært på vegen i fleire år tross sin unge alder, og me som følgjar ham, merker framgong nærmast frå månad til månad. Tommy og hans Runaway Boys er store publikumstreffare på fleire festivalar og klubbar. Tommy Kristiansen er også ein fin vokalist og han har nå utvida bandet med Lars Hammersland på orgel. Elles er kompet det same: Ørjan Borge på trommer og Øystein Langhelle på bass.
Frå å vera eit rent rockabilly – og bluesband, har Tommy & The Runaway Boys utvikla seg til å bli eit band som spruter av energi og livslyst med rufsete rock and roll-blues som grunnlag. Gutane er heilt klart eit av dei mest spennande banda i Noreg akkurat nå og er å sjå og høyre på mange festivalar og klubbar over heile landet.
Dei har gitt ut CD`ene "Swing, Shake & Boogie" (april 02) og "Crazy Jane" (april 03). Begge er utseld frå lager. Tommy & The Runaway Boys gjer mellom 50 og 60 spelejobbar i året.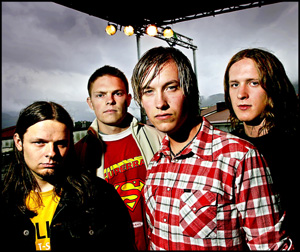 Toni Lynn Washington (US)
Frå ei webside om artisten: Her youth was spent in Southern Pines, North Carolina where she loved nothing better than a chance to sing with her school and church choirs. Her education in the language and lifestyle of music continued when her family moved to Boston, where she finished her formal education and went about building a career that has taken her through more cities, states and countries than she'd care to remember.
Toni Lynn first took the stage in Boston where, after sneaking past the door of as many clubs as she could (being underage at the time), she was soon wowing musicians and audiences all over the city. She had, of course, been doing this for quite some time, until one fateful night, when she proceeded to bring the house down with her performance of Ruth Brown's «5, 10, 15 (Hours Of Your Love)». Only this time, Mom was in the house! But the «buzz» had already begun.
Marriage at 18, to a military man, soon found our heroine in New Orleans. Once settled, she befriended, worked with and opened for such blues/soul legends as Jackie Wilson, Johnny Adams, Big Joe Turner, Sam and Dave and Bobby Blue Bland. She worked regularly in clubs all over New Orleans and soon found herself traveling more and more.
Her early recordings for Kon-Tiki (a subsidiary of Atlantic Records) produced the moderately successful single «Dear Diary» and a truly heartfelt version of the ballad «Satisfaction». Interestingly, the «B» side to «Satisfaction» was an early version of «Good Things», which forty years later is the title track of her latest Tone Cool CD. A military transfer brought her young family to a still-segregated Pensacola, Florida, far from her Crescent City ties. She managed to find a few regional bookings, which would not take her away from her family for too long. And she actually fronted a 35 piece, Military Band that performed at many high-profile events and eventually led to a few USO tours.
A few moves and a few groups later, Toni found herself in Hollywood. Almost immediately upon her arrival, she secured representation, and became the sole female in a Fifth Dimension-esque group called Sound 70 (The Sounds of the Seventies). Travel with this band took her all over the country and world, and even led to television appearances on such popular shows as those hosted by the likes of Steve Allen and Mike Douglas. Yet, in the eight years she worked with them, Toni became increasingly discouraged. Constant touring took her away from her young family at a time when they probably needed each other most. It also removed her from the Hollywood base that might have garnered more opportunities for her, yet ultimately yielded just one unreleased pop record. The breakup of Sound 70, a move to the East Coast and a short stint with some ex-Raelettes solidified her disenchantment. She felt there was no real future for her, no «Big Time», like the friends she had left behind in New Orleans were beginning to experience in the burgeoning Soul and R&B genres.
With her professional life seemingly in limbo, and no upswing in sight, she moved back to Boston in the early 80's and got a 9 to 5 office job so that she could provide for her family. The need to entertain was not out of her system, of course, and she sat in with a number of local artists, including jazz vocalist Eula Lawrence, who was moved by her remarkably emotive voice, and wondered where this talent had been hiding herself?
Compliments and mutual respect became introductions, which soon yielded more and more freelance work with local jazz groups whenever the opportunity arose. During this period, Toni performed at virtually every music room in Boston. But the yearning to perform her own songs in her own style was growing greater. Toni soon gained the opportunity to sing the blues she so loved, as front woman of Boston Baked Blues. This provided her introduction to blues audiences all over the Northeast, and she was warmly embraced by players and listeners alike. Musically, things were starting to feel like home again.
After a few successful years with BBB, Toni began to feel the need for a change. Her creative juices were flowing again, and she wanted more of an opportunity to write and collaborate. She needed to sing songs that she chose herself and were arranged for her. It was time for her to, once again, chase her dream. She made the break, with no ill will, from Boston Baked Blues, and with the help of BBB band mate Bruce Bears as her musical director and keyboardist, she formed her own band. She and Bruce called upon members of Boston's richly talented music scene for players, and approached musicians who seemed most likely to «get her to» the sound she wanted.
Toni Lynn's career has blossomed in the last decade. Signed to Richard Rosenblatt's Tone-Cool Records, she has begun to see some reward for her efforts. She's been nominated for two W.C. Handy Awards, had her music used in feature film soundtracks, and appeared on National Public Radio in the company of Etta James and John Lee Hooker. She has recently recorded a performance for broadcast on Voice Of America, and will soon appear as the featured performer on the House Of Blues Radio Hour. Toni has enjoyed increasing acclaim and notoriety, but it took a recent personal heartbreak, the loss this past year of her biggest fan, mother Virginia Washington, to solidify and charge that drive for musical recognition and public acclaim she so richly deserves.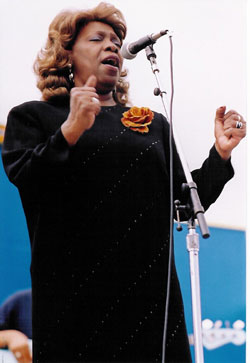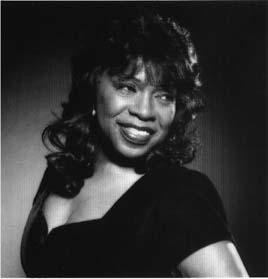 Wig Wam ( N )
Rock 25 timer i døgnet.
«It's Hard To Be A Rock'n'roller» synger Wigwam. Men påsken 2005 må være bedre enn gjennomsnittet. . .
Påskefjellets frelser. Wigwams frontfigur Glam erobret de yngste på utekonsert i Oppdal påskeonsdag. Etter at Wigwam vant den norske Melodi Grand Prix-finalen for noen uker siden, har det vært full spiker for Østfold-bandet.
– Nå er det rock 25 timer i døgnet, sier vokalist Åge Sten «Glam» Nilsen til Adresseavisen i solsteiken på en av mange perfekte påskedager i Oppdal.
De spiller hver eneste dag, og gjerne flere ganger dagen gjennom påsken, og turnévirksomheten fortsetter helt frem til bandet skal delta i uttakningsrunden til den internasjonale Grand Prix-finalen 19. mai, og forhåpentligvis også på selve finalen to dager senere.
Det er ikke lett å forutsi bandets sjanser i Grand Prix, men hjemme i Norge ser det riktig så bra ut. Deres vinnerlåt «In Your Dreams» gikk denne uken helt til topps på den norske singlelisten, den første Grand Prix-vinner som har hatt den posisjonen på nøyaktig 20 år. Hvilken låt var det så den gang? Ja, riktig: Bobbysocks og «La Det Swinge»
Det er litt internasjonal interesse for bandet også, De har gjort intervjuer med amerikanske medier – og er invitert til å spille i Romania før Grand Prix-finalen. De håper på flere oppdrag i utlandet. I Oppdal onsdag spilte de med playback i barneområdet på Vangslia, til stor glede for de yngste – og med en autografseanse til slutt som var lenger enn selve konserten.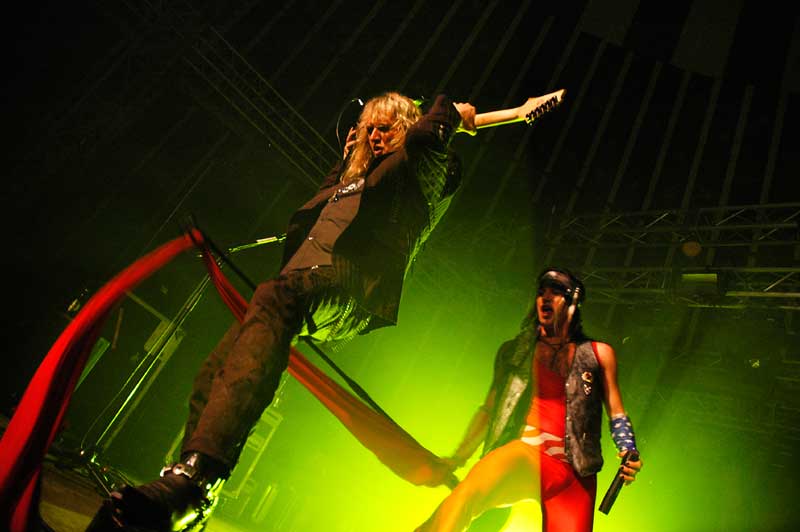 Tuco's Lounge (N)
Frå panorama.no: There Aint No God in Tuco's Lounge, synger bandet med nesten samme navn, og det skal de sannelig få oss til å tro. Tuco's Lounge opererer nemlig i et fullstendig gudsforlatt sted, langt inne i ørkenen. Og vi lar oss villig lokke med på hesteryggen.
Etter flott mottagelse for deres to EP-er Mexican Standoff og Bounty, er det nå klart for en helaften med dette særdeles karakteristiske og karismatiske bandet.
Selv om Tuco's Lounge har blitt sammenlignet med både Madrugada og Kaizers Orchestra, er det atskillig høyere saloonfaktor over disse bergenserne. Her er det allsangrefrenger i hopetall, og bandets skranglete kåbboyuttrykk gir oss følelsen av å sitte ved et røykfullt pokerbord i ville vesten.
Det er nærliggende å tro at elleve solbrente ørkenlåter er i meste laget, men ved hjelp av gode melodier og en solid dose selvironi ror Tuco's Lounge dette i land med stil.
Låtene Mexican Standoff og Bounty er allerede kjent gjennom de nevnte EP-ene, og bandet fortsetter i samme spor. Spesielt Loaded, Over My Dead Body og Occupational Hazard gjør dette til en av de triveligste utgivelsene så langt i år.
Mye tyder også på at dette bandet er en opplevelse live. Med slikt materiale kan man umulig trå feil, og det blir garantert stor stemning når Bjørn Sture Hillestad og kompani spiller opp til dans. Finn frem sigarene og sjetongene! Her blir det bråk.